| | |
| --- | --- |
| | INTERNATIONAL DENTAL COSMETIC CENTER |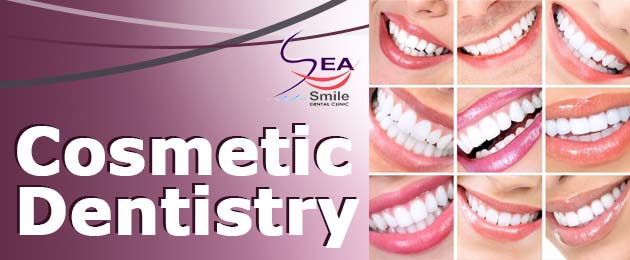 Having a great smile can be one of your essential assets. If you lack that confidence to show your smile because you need your teeth whitening or straining, you are actually holding back a huge part of your personality. It is quite difficult to relate yourself well to others when you're totally conscious about yourself.
At Sea Smile Dental Clinic, our caring and experienced cosmetic dentists can bring out your best smile in a breeze. Your confidence will be back in no time and your life will be better. We offer a variety of the latest most advanced cosmetic dentistry procedures like laser tooth whitening, porcelain veneers, dental bonding, dental crowns/bridges, invisible aligners, and many more.
Our international dental cosmetic expertise have already helped thousands of people from all over the world to achieve the smile of their dreams. We utilize the latest in technology and modern techniques that cosmetic dentistry has to offer. Check out our Case Gallery and Testimonials page to know more about the happy patients we have helped achieve their gorgeous new smiles.
Visit or Contact Us now and see how we will be able to transform your dream smile into a reality during your dental holiday here in this beautiful tropical paradise set in Phuket, Thailand.
DENTAL VENEERS

Dental Veneers, also known as porcelain or ceramic veneers, may be able to repair tooth/teeth that has discolored, worn-down, chipped/broken, misaligned, or have been irregularly. Dental Veneers can provide a natural tooth appearance that will not affect or irritate your gum tissues. Porcelain Veneers are stain resistant, and can make dark teeth appear whiter. They offer a conservative approach to changing a tooth's color or shape. Extensive shaping prior to a dental crown procedure is not required for veneers. They are actually stronger and more aesthetic than tooth fillings or bonding.
LASER TEETH WHITENING

During the past when cosmetic dentistry is at its early stage, stained or discoloured teeth were one of the things we just had to live with, considering the fact that whitening one's smile is not that easy, as effective teeth whitening options would involve such expensive and lengthy procedures that usually requires spending hours on a dental chair...NOT ANYMORE! At Sea Smile Dental Center in Phuket, a dazzling white smile just a "single-visit" and "less-than-an-hour" away.
PORCELAIN CROWNS (METAL-FREE)

As we age, many of us find ourselves with teeth that are no longer structurally sound. Root canals, lost fillings, decay below a filling, chipping and cracking of the enamel are all things that can lead to large scale defects in a tooth's surface. A dental crown is needed when a tooth is badly broken down - either a cusp has broken off, or there are large old fillings or a large portion of decay. A filling is used to fill a small portion of the tooth - a crown when the tooth has extensive damage.
DENTAL IMPLANTS

Dental Implants are currently the most advanced technique in replacing your missing tooth/teeth. They have been used and continuously being developed for over 30 years and yet the technology remains to be the ideal tooth replacement solution. Dental Implants are used to replace a missing tooth, a number of missing teeth, and as support to a dental fixture (bridge or denture containing multiple teeth).
AESTHETIC DENTAL FILLINGS

Natural Tooth-Colored Fillings were created as an alternative to traditional metal dental fillings. Tooth Fillings that have the color and appearance of a natural tooth are known as Composite Resin Dental Fillings. They are made of a plastic resin combined with porcelain and glass particles. These types of fillings are durable and are way more natural looking than amalgam fillings. If you have a cavity in a tooth, broken fillings, or if your teeth are full of mercury/amalgam fillings, you may want to ask your dentist about changing to them with Natural Tooth-Colored Fillings.
GUM RECONTOURING/RESHAPING

A "gummy" smile can make your teeth look short and unattractive. With the ease and comfort of an ordinary blade or a laser, gums can be reshaped to reveal a more appealing smile. With the latest technology, not only can we quickly sculpt excessive and uneven gums, we can immediately seal the gums tissues as well. This allows you to heal faster and more comfortable. This procedure can actually be completed in a single clinic appointment.