Activities in Phuket
Golfing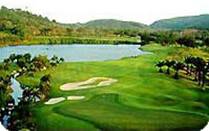 Phuket, Phang-nga, and Krabi all have world-class golf courses, some designed by renowed international architects and star golfers. The courses are set among a variety of exciting surroundings like amidst green mountains and by the azure sea. Wherever they are, all have modern facilities and impeccable services. Green and caddie fees are always very affordable. Some courses boast excellent cuisine and accommodation. All can cater to any program for groups large and small. This publication gives you valuable insight into the golf courses in the three provinces, but there is nothing that can compare to actually playing on one, or even a few of them. We believe that after one visit, you will likely return for more glorious golfing by the Andaman Sea.
Sea Diving

Phuket diving sites number among the very best to be found. In fact, the readers of the top diving magazine voted Phuket diving among the top ten in the world. Diving Phuket's warm clear blue waters is best from mid-October to May, when the calm seas and rain free days make Phuket diving off Ko Kaew Noi, Ko Rajali Yai, Shark Point a truly unique experience.
Phuket's western shore is dotted with a dozen pristine white sandy beaches, including Surin, Patong and Nai Yang beaches, which abound with aquamarine life. Listed among the top 10 Scuba diving destinations in the world, the beaches on the west coast of Phuket offer some supreme Scuba diving with the depths from about 30 to 45 meters. Good close-up photographs can be taken. Also, regular diving cruises and private trips can be arranged to other highly regarded diving areas such as the Similan Island. Phi Phi Island diving is also one of the highlights for any serious dive's itinerary, Phi Phi Island diving takes the diver to one of the most famous diving sites in the world, and facilities for Phi Phi Island diving are among the best.

Diving Equipment: Several dive shops concentrated in the Patong, Kata and Chalong areas have Asian and European expatriate(s) (speaking English and several other languages) and bi-lingual Thai dive instructors who offer inexpensive beginner's courses. All diving equipment is available for hire.
Shopping
All of Thailand is known for its fantastic shopping, and Phuket is no exception. Particularly fine examples of handicrafts from around the country are available at the tourist markets and speciality shops of the beach centres, Phuket Town and at Canal Village in the Laguna Phuket complex - which also boasts its own branch of Jim Thompson's, the Thai silk specialists.
Phuket is also the source of several of the country's finest gift and souvenir products including cultured pearls, neilloware, pewterware, ornaments and dried seafood.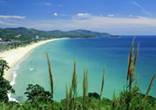 Thalang Road, in Phuket Town, is home to many cloth merchants, offering excellent deals on a wide selection of cloth, which the island's tailors will be happy to convert into a fashion statement of the customer's choosing. Phuket's rapidly developing infrastructure has also allowed for a considerable growth in shopping opportunities. Several large department stores are located in Phuket Town, Thalang and Patong and two giant supercentres - Tesco Lotus and Big C - have recently opened on the Bypass Road, north of Phuket Town, offering easy shopping for long stay visitors and yacht charter tourists.